Reincarnated as a Sword Season 2: Mid-2024 Premiere, Cast & Visuals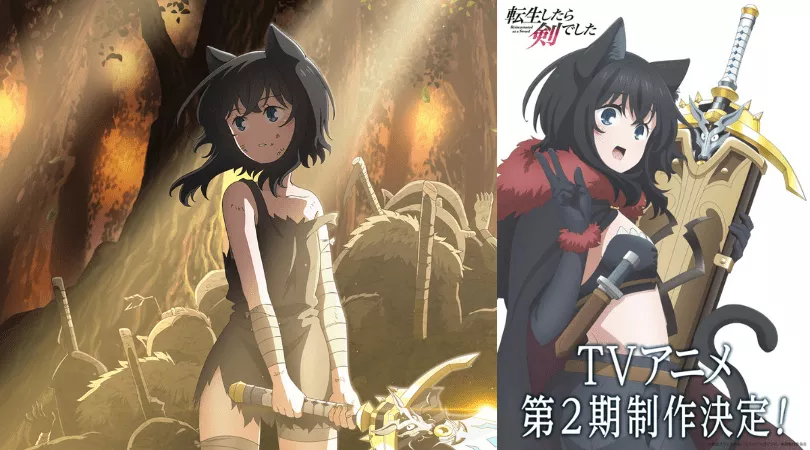 Good news for the Isekai anime fans, Reincarnated as a Sword Season 2 has been officially announced. According to the official Twitter account of the series 'Tensei Shitara Ken Deshita' or 'Reincarnated as a Sword', the season 2 premiere is expected in mid-2024. It is a Japanese light novel series written by Yuu Tanaka and illustrated by Llo. This series' first season aired from October to December 2022 by C2C studios.
Anime Plot (Season 1)
This show revolves around a nameless protagonist who dies in the modern world in a car accident and finds himself reincarnated in another world as a sword with no recollection of his name, though he remembers everything else from his previous life. Using the power of telekinesis, he explores the new world and unlocks many super abilities. He begins to seek someone who can be his wielder. He discovers a caravan of slave traders under attack by a two-headed bear where he comes across a Black Cat girl slave named Fran who discovers him and uses him to kill the bear. After being freed from slavery, she names the sword "Shishou"(Teacher) and the two of them then explore the world together.
Reincarnated as a Sword Season 2 Release Date, Cast, Visual
Release date:
While a specific premiere date has not been announced yet, fans can expect the second season to air in mid-2024. Keep an eye out for updates from the official Twitter account of the series, as well as announcements from C2C studios.
For those who missed the first season, it is available for streaming on various platforms. Get ready to join the protagonist on another exciting adventure in the world of "Reincarnated as a Sword."
Shishou, voiced by Shin-ichiro Miki
Fran, voiced by Ai Kakuma
Amanda, voiced by Ami Koshimizu
Klimt, voiced by Wataru Hatano
Donadrond, voiced by Tetsu Inada
Nell, voiced by Rumi Okubo
Gallus, voiced by Shinpachi Tsuji
[Source: Official Website]
Follow SlashInfo.com for the latest anime news and updates, and don't forget to share your thoughts on "Reincarnated as Sword Season 2" in the comments below.