Unihertz Atom: The World's Smallest 4G Rugged Smartphone with Fingerprint Scanner & NFC!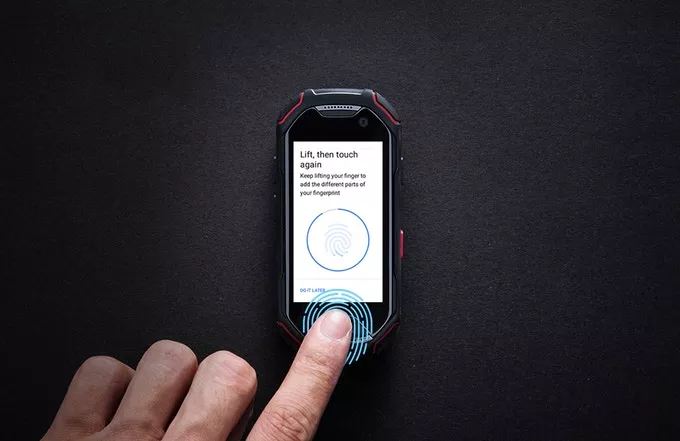 The smartphones are evolving rapidly. Every year we see that the tech companies bring new and better devices with bigger display size, more amount of RAM and storage and latest processor. This year, we have Apple iPhone X, Xiaomi Mi 8, Samsung Galaxy S9, OnePlus 6 and many other flagship smartphones featuring bezel-less displays. But a company named Unihertz has introduced a tiny 4G Android smartphone which is just 3.7 inches in height! The mini smartphone is named "Unihertz Atom".
The Unihertz Atom phone features a 2.45-inch display with a resolution of 432×240 pixels. The dimensions of the smartphone are – 96mm × 45mm × 18mm. The tiny device is powered by an octa-core processor. It has 4GB of RAM, 64GB of internal storage, 2000 mAh battery, and a fingerprint scanner.
Atom runs on the Android 8.1 Oreo operating system. It comes with a 16MP rear camera and an 8MP front camera. The handset is suitable for photography even under the water!
The new Atom smartphone is IP68 certified. It is waterproof, dustproof, and shockproof. You can take this tiny rugged phone to any outdoor adventure or trip. The handset has 4G connectivity, USB Type-C, NFC, FM radio, a 3.5-mm headphone jack, Bluetooth V4.2, Wi-Fi, and GPS. Users can transfer data using the OTG. For more convenience, the Atom comes with a shortcut button (programmable key) which can be used to setup to open google, GPS, camera or any other application.
This tiny smartphone has all the necessary sensors – G-sensor, gyroscope, Proximity sensor, Ambient Light sensor, Compass and a front-mounted Fingerprint sensor. The fingerprint scanner can be used for unlocking the device, capturing photos or answering calls. The company has made three accessories for the Atom – bike mount, armband, and belt cap.
Unihertz Atom Specs
Display: 2.45-inch with Gorilla Glass
OS: Android 8.1 Oreo
Processor: Octa-core CPU
RAM: 4GB
ROM: 64GB
Rear Camera: 16MP with LED flash
Front Camera: 8MP
Battery: 2000mAh
Connectivity: 4G LTE, Wi-Fi 802.11 a/b/g/n, Bluetooth 4.2, NFC, GPS and FM radio
Waterproof: Yes, IP68 water and dust resistant
Other features: Fingerprint sensor, Dual Nano SIM, Programmable key, OTG, etc.
The Unihertz's Atom smartphone will be available on Kickstarter website. You can order this tiny phone for $219. The packaging and delivery of Unihertz Atom phone will start from October 2018.
About Unihertz
Unihertz is a team of passionate designers and engineers who believe technological advancement can create unlimited paths to shape the future. With over a decade of designing expertise in mobile devices, their mission is to design and create unique mobile products for modern explorers.
Source – Kickstarter