Apple iPhone 8 vs Samsung Galaxy S8 – Which one should you buy? (Flagship Phones of 2017)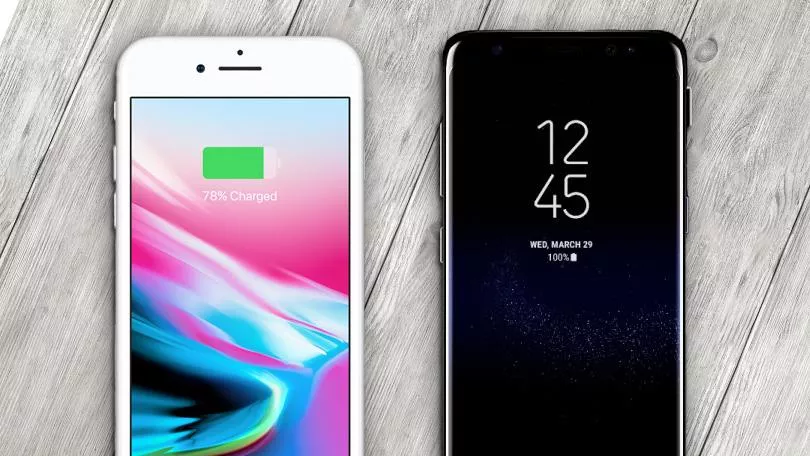 Apple iPhone 8 vs Samsung Galaxy S8 – Which one should you buy? (Flagship Phones of 2017)
Apple iPhone 8 and the Samsung Galaxy S8 are the two greatest flagship phones which came this year. But what if a comparison is held between these two phones! These are the two best choices but both cannot be the best. So, if you are in a confusion to buy any one of these, you can get the correct comparison, specifications, price, and much more information about these phones here. Now, its time to start the battle between the two warriors! Apple iPhone 8 vs Samsung Galaxy S8…
Read Full Specifications of iPhone 8 –Apple's New iPhones – iPhone X, iPhone 8 and iPhone 8 Plus
DISPLAY
Let's start with the display. The Apple's iPhone 8 has a 4.7 inch IPS display whereas the Samsung's Galaxy S8 has a 5.8-inch super AMOLED display which is bigger than iPhone 8.
But if you are looking for a compact phone to carry in your pocket, iPhone 8 is also a good choice. Talking about the screen/display resolutions, iPhone 8 has 750×1334 pixels and Galaxy S8 has a resolution of 1440×2960 pixels. In terms of quality, S8 is a good choice but iPhone is nice if you are looking for a small flagship phone. But finally, Galaxy S8 is better in terms of display.
SOFTWARE AND PROCESSOR
Now, let's talk about the operating systems of the phones. Both of the phones work smoothly. The iPhone 8 has the iOS 11 operating system and Samsung Galaxy S8 comes with the Android Nougat operating system. When talking about the processors and performance, both the phones work very well and there is hardly any issue of lagging or hanging.
The iPhone 8 has a hexacore Apple A11 Bionic processor and the Galaxy S8 is powered by a 1.9GHz octa-core Samsung Exynos 8895 processor. In terms of performance, iPhone never has an issue of lagging but Galaxy S8 also works smoothly. So, in performance, iPhone 8 is a better choice.
STORAGE FEATURES
As far as the storage features are concerned, iPhone 8 has 2GB of RAM and 64GB of internal storage. Samsung Galaxy S8 has 4GB RAM and 64GB internal storage. The storage difference doesn't matter because Apple's storage is very good even its 2GB.
But the iOS store doesn't have as many apps as the Android has. If you want a phone for daily use with without any issue, the iPhone 8 is best but if you want to enjoy all the Android apps and games, you should buy the Galaxy S8.
CAMERAS – Is iPhone 8's camera really better?
Now its time to check the cameras. The iPhone 8 has a 12-Megapixel rear camera and a 7-Megapixel front camera and on the other side, Samsung Galaxy S8 has a 12-Megapixel primary camera and an 8-Megapixel front shooter for selfies. In terms of cameras, both the phones are almost same. Check out theSamsung Galaxy S8 camera review.
BATTERY AND OTHER FEATURES
As we talk about the battery life of these phones, the iPhone 8 has an 1821 mAh and on the other side, Samsung Galaxy S8 has a bigger 3000 mAh battery. The batteries of both the phones are non-removable. As talking about the other additional features, both the phones comes with the fingerprint sensor. iPhone 8 is a single sim phone and supports 4G, and Galaxy S8 supports dual sims with 4G connectivity.
PRICE POINT – iPhone 8 is more expensive!
This is the most important comparison between the two phones which is about the price. The Apple's iPhone 8 worth Rs. 59,999 whereas the Samsung's Galaxy S8 costs Rs. 53,900. Samsung Galaxy S8 is a little cheaper than the iPhone 8 but as you all know, Apple gives the best performance on its phones but they are little expensive. But the Galaxy 8 is also highly featured flagship phones like iPhone 8 and a little low priced too. It's your choice to choose because you know that you are an Apple fan or an Android lover.
So, Who's the winner according to you? Apple iPhone 8 or Samsung Galaxy S8? Post your thoughts below by commenting. And for more such mobile comparisons, keep reading the Slashinfo Magazine.